Saab
Saab AUX input adapters and aux cables for Saab 9-3 and Saab 9-5. Connect iPod, iPhone, iPad, MP3 players and more via RCA phono or 3.5mm jack lead.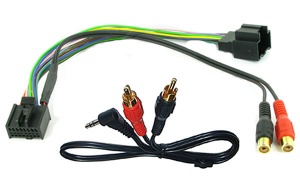 Saab 9-3 9-5 Aux adapter lead CTVSAX001 - 2006 onwards£16.95
FREE UK delivery
Saab aux adapter for Saab 9-3 and 9-5. Connect any iPod, iPhone, mobile phone, MP3 player etc. to the factory fitted OEM radio in your Saab. For Saab models 2006 - 2009 with AUX button on radio face. Full details inside.