Suzuki
Suzuki AUX input adapters and aux cables for Suzuki Grand Vitara Swift etc. Connect iPod, iPhone, iPad, MP3 players and more via RCA phono or 3.5mm jack lead.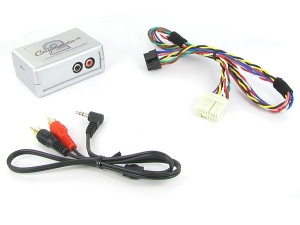 Suzuki Aux adapter Swift Grand Vitara SX4 Jimny II CTVSZX001 - 2005 onwards£33.90
FREE UK delivery
Suzuki aux adapter for Suzuki Swift, Grand Vitara, SX4 and Jimny II. Connect any iPod, iPhone, mobile phone, MP3 player etc. to the factory fitted OEM radio in your Suzuki. For Suzuki models 2005 onwards with PACR01, PACR02, PACR03, PACR04, PACR05, PACR06, PACR07 or PACR08 radio by Panasonic. Full details inside.